Suntory, the renowned Japanese whisky producer, has introduced a collection of exclusive limited-edition bottles to commemorate its remarkable 100-year history. Shinjiro Torii established Yamazaki, Japan's first commercial whisky distillery, in Osaka back in 1923.

To unveil these new releases, a glamorous event took place in London, graced by prominent figures such as film director Sofia Coppola and actor Keanu Reeves, a devoted admirer of Suntory whiskies. Coppola, in addition to her attendance, has also created a captivating short video honoring the House of Suntory. The video showcases Reeves strolling down a vibrant neon-lit street, entering a bar, and sharing a glass of the esteemed Hibiki 21 Year Old with friends. Furthermore, it highlights some of the most iconic Suntory advertisements from the past century.
"We already predicted in our earlier article that Suntory was going to do something special with their 100th Anniversary, you can find the article here."
Yamazaki 18 Year Old Mizunara Anniversary Edition
Introduced as a distinguished addition to Yamazaki's portfolio, the Yamazaki 18 Year Old Mizunara (Alc 48%) is a single malt whisky that undergoes maturation in rare Mizunara oak casks. Suntory's exploration of Mizunara cask finishes dates back to the 1940s when Master Blenders Shinjiro Torii and Keizo Saji first embarked on this endeavor.

Shinji Fukuyo, the current chief blender, expressed, "Yamazaki 18 Year Old Mizunara exhibits a lavish texture resulting from its extensive aging process. This showcases the delicate and meticulous craftsmanship that was dedicated to its creation. I firmly believe this whisky embodies the founding family's relentless pursuit of excellence."

The Yamazaki 18 Year Old Mizunara is a captivating and refined whisky with lingering qualities. Its bouquet encompasses enticing aromas of black cherry and ripe stone fruit, complemented by spice notes that gracefully transition onto the palate. This flavor journey is accompanied by exotic undertones of incense, sandalwood, and coconut.
Hakushu 18 Year Old Peated Malt Anniversary Edition
Suntory's second noteworthy release originates from the renowned Hakushu distillery, situated on the slopes of Mount Kaikoma in Yamanashi, known for being one of the highest distilleries globally since its establishment in 1973. The Hakushu 18 Year Old Peated Malt (Alc 48%) is an exquisite blend of meticulously selected malt whiskies, each aged for a minimum of 18 years.

Fukuyo remarked, "Blending lies at the core of our practices at the House of Suntory, and we maintain the utmost standards for each of our whiskies throughout the entire process."

The Hakushu 18 Year Old Peated Malt is a lavish, multifaceted, and potent whisky that marries its characteristic smokiness with layers of citrus and herbs, accompanied by enticing honeyed undertones.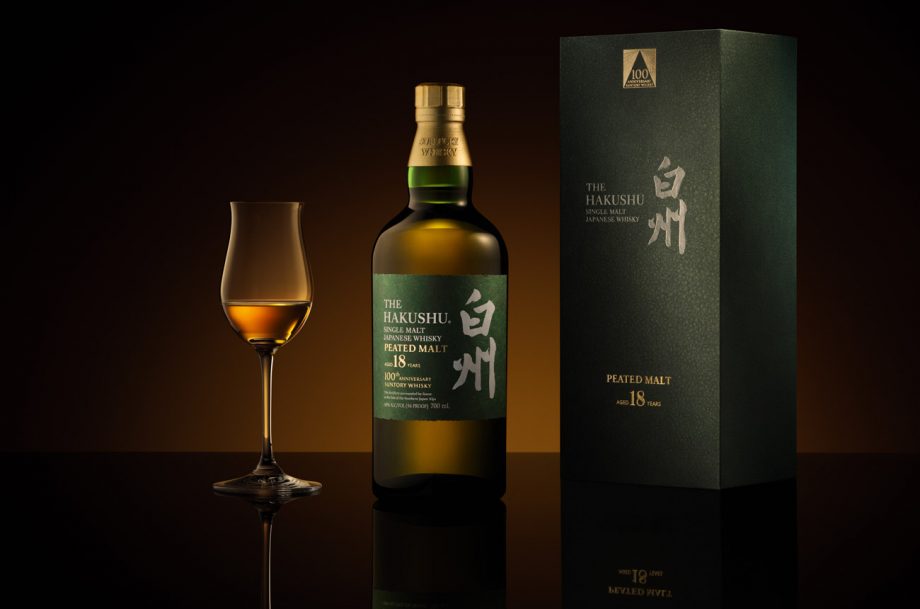 In addition to these two new offerings, Suntory is also unveiling a limited quantity of its classic Yamazaki 12 Year Old and flagship Hakushu 12 Year Old whiskies, adorned with commemorative centennial packaging.
Yamazaki 12 Year Old Anniversary Edition
In commemoration of Suntory Whisky's centenary, the Yamazaki 12 Years Old Single Malt is presented in a special 100th Anniversary Limited Edition Design. This remarkable release is expertly crafted from carefully selected malt whiskies, all aged for a minimum of 12 years in casks.

As part of the illustrious Yamazaki family, Japan's quintessential whisky, it is produced at the country's first and oldest malt distillery, established in 1923. The name "Yamazaki" signifies "mountain cape," reflecting its distinctive geographical location nestled among forested mountains.

The bottle design serves as an homage to Yamazaki, the birthplace of Japanese Whisky, capturing the essence of this legendary distillery with its deep copper tones. It serves as a reminder to always pay tribute to our heritage and honor our past.