In the year 2023, a truly historic moment unfolds as the venerable House of Suntory, the founding entity of Japanese whisky, announces the grand arrival of the Hibiki 100th Anniversary Limited Edition. This distinguished release comprises two exceptional offerings: the revered Hibiki 21-Year-Old and a meticulously crafted limited-edition design for Hibiki Japanese Harmony.
These two releases stand as the latest jewels in the House of Suntory's centennial whisky collection, a resplendent tribute to a full century since the visionary Shinjiro Torii laid the foundation for Japan's inaugural malt whisky distillery in 1923.
Hibiki 21 Year Old 100th Anniversary
Hibiki, originally introduced in 1989, represents a harmonious blend of diverse malt and grain whiskies sourced from Suntory's renowned Yamazaki, Hakushu, and Chita distilleries. For this monumental centennial edition, the Mizunara oak takes center stage, infusing its influence into the blend while preserving the distinct character of Hibiki. Chief Blender of Suntory, Shinji Fukuyo, shares, "With meticulous precision, we embarked on the task of crafting a new blend to celebrate our centennial, deftly harnessing the challenging yet rewarding characteristics of Japanese Mizunara oak. This exceptional whisky is a testament to our unwavering commitment to the artistry at the heart of the House of Suntory."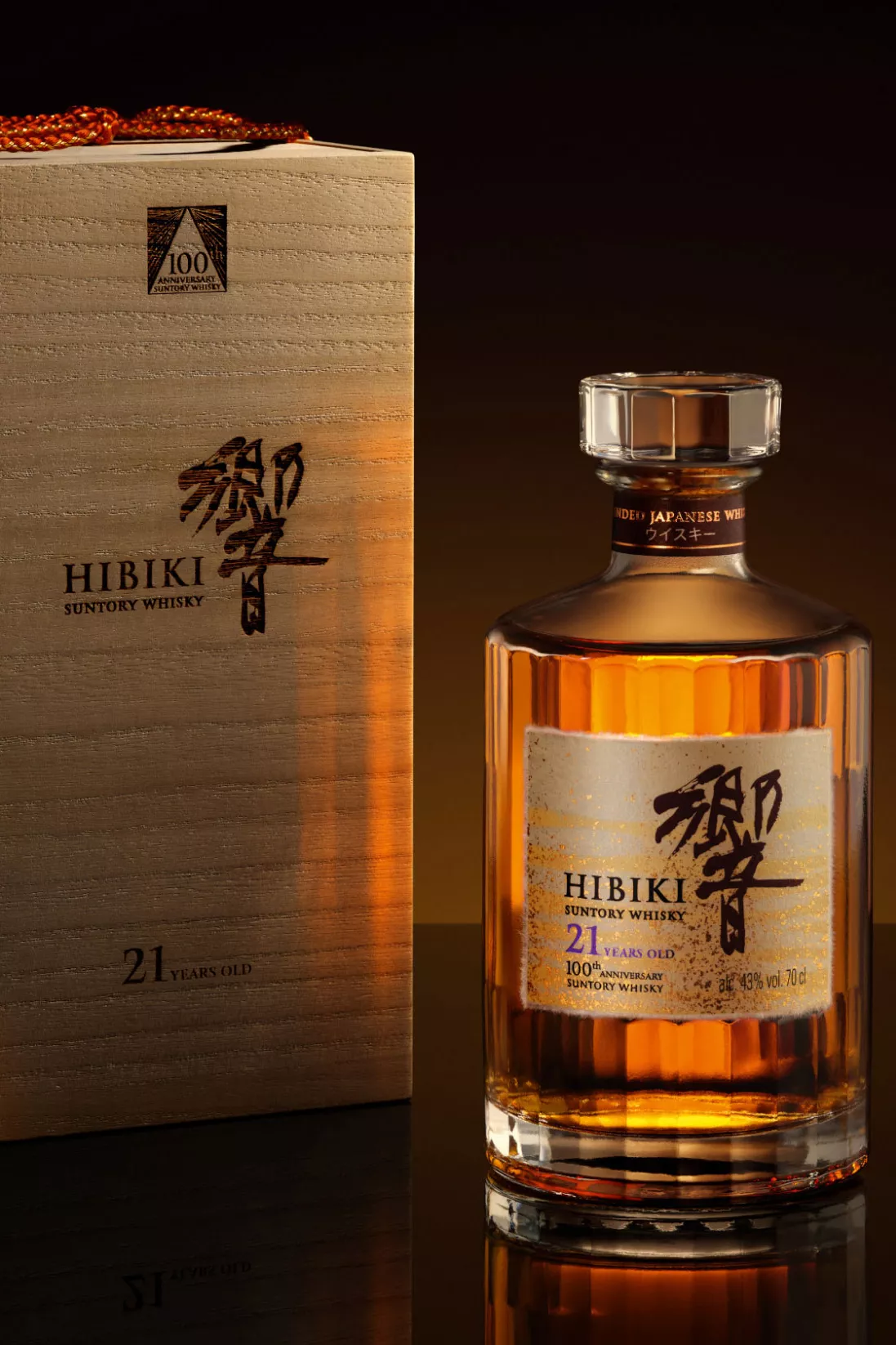 The result is an olfactory journey graced by kumquat and jasmine with hints of Japanese incense. The palate dances with sweetness and floral notes, enriched by spiced sandalwood and agarwood, culminating in a finish kissed by spiced Mizunara wood. 

Hibiki Japanese Harmony 100th Anniversary Edition

The centennial Hibiki Japanese Harmony bottle design is a testament to the profound art of "Monozukuri" craftsmanship. Adorned with motifs of snow, moon, and flowers, it artfully represents the ever-changing seasons of Japan. The "Kakehashi" or bridge depicted on the bottle serves as a symbolic link between Japan and the world, connecting the past, present, and future. It signifies the pure, clear waters flowing beneath, cleansing away hardships and calamities. This "Kakehashi" embodies the emotional connection of the Japanese people to the unique seasonality of their homeland, fostering an appreciation for time that resonates deeply and inspires through Hibiki.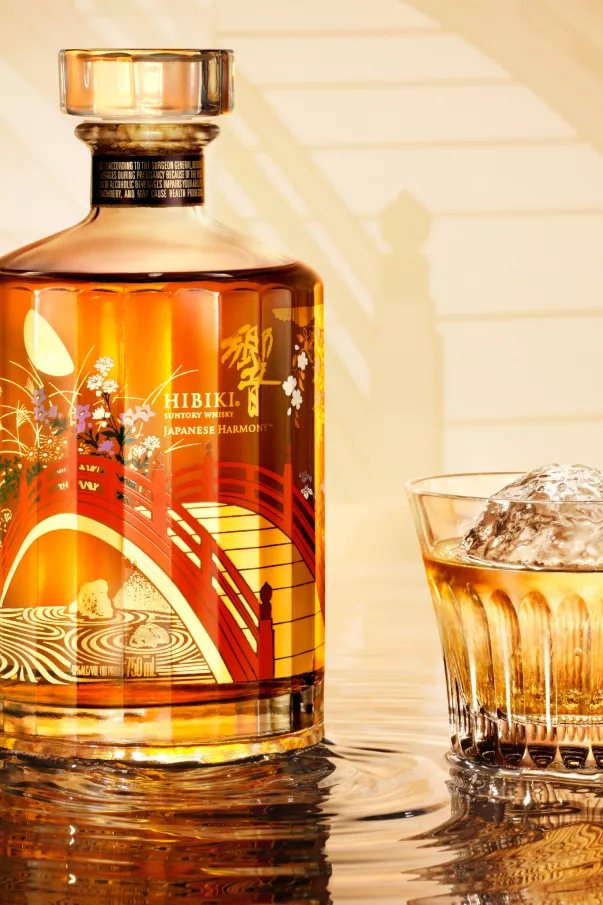 Suntory's 100th Anniversary Editions

Earlier in the year, the House unveiled the centennial edition Yamazaki 18 Year Old Mizunara and Hakushu 18 Year Old Peated Malt whiskies. Additionally, limited 100th-anniversary labels adorned the flagship Yamazaki 12 Year Old and Hakushu 12 Year Old, all available in select markets around the world.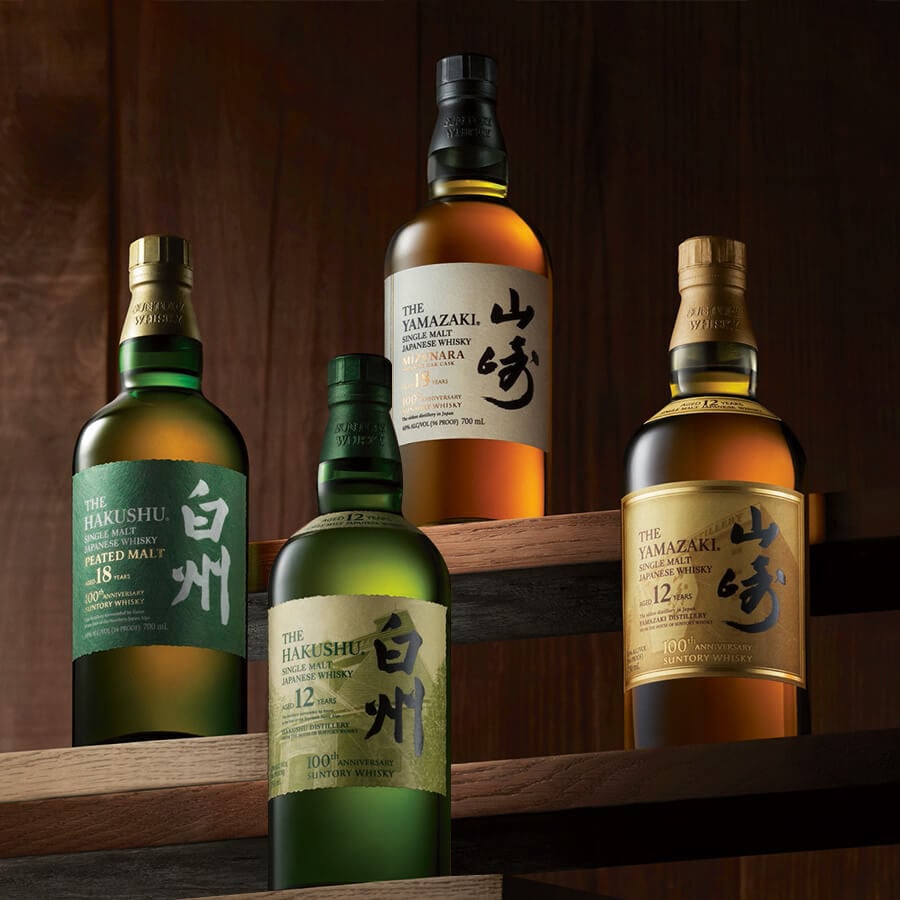 Source: Hibiki® Japanese Harmony 100th Anniversary | House Of Suntory
Our Collection
Your Dynamic Snippet will be displayed here... This message is displayed because you did not provided both a filter and a template to use.